https://www.removemypests.com/wp-content/uploads/2016/04/bee-removal-wasp-hornet-yellow-jacket.jpg
276
500
Bohmz Pest Services
/wp-content/uploads/2018/01/Bohmz-Pest-Control-Removal-Services-Wisconsin-LOGO.png
Bohmz Pest Services
2016-04-18 08:36:25
2016-04-18 08:40:01
Bizarre Bee Infestation Returns To NASCAR With A Vengeance
A man is repeatedly stung by angry wasps when he disrupted their nest while hiding in a bush from police.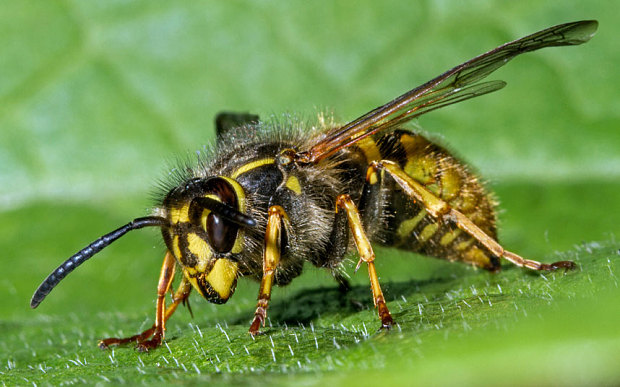 Photo: Alamy
A suspected burglar was caught with a different kind of sting operation after he disturbed a wasps' nest while hiding from police.
The man was repeatedly stung by angry wasps when he disrupted their nest while hiding in a bush from officers.
He had to be taken to hospital for treatment.
West Yorkshire Police's Leeds Inner South Neighbourhood Policing Team (NPT) posted on Facebook: "A male has been arrested after breaking into business premises in Hunslet.
"The male however is currently in hospital after making the unfortunate decision to hide from the police in a bush and thus disturbing a wasps' nest."
Wasps are semi-social and live in small colonies. While not an aggressive species by nature, wasps will sting if they are disturbed or their nest is threatened. Wasp stings are painful and can cause the same risk of allergic reaction as other insect stings.
TIP: WASP PREVENTION
Wasps often build nests in residential yards. Before trimming shrubs or hedges, or picking fruit, check the plant for wasp nests. Treat wood fences and deck railings with a repellent oil to deter wasps from gathering cellulose from the wood. If you suspect you have a wasp infestation or find a wasp nest on your property, contact Bohmz Pest Services, a licensed pest management professional to find out about wasp treatment.
Do not attempt to remove a nest on your own, as there is a high probability you will get stung!
Immediate assistance is available 24 hours a day, 7 days a week. Contact our certified pest control technicians in Janesville & Madison about your Wasps, Bees & Hornet Removal Service needs at 608-201-0807 today.
No time to meet? No problem! If you are unable to meet with our technician at the time of service, we can still assist you. Your keys and codes will be completely safe with our licensed and certified technicians. To schedule an appointment for residential or business service, contact Bohmz Pest Services by calling 608.201.0807 today or by visiting our contact page.
https://www.removemypests.com/wp-content/uploads/2014/08/wasp-removal-madison.jpg
387
620
Bohmz Pest Services
/wp-content/uploads/2018/01/Bohmz-Pest-Control-Removal-Services-Wisconsin-LOGO.png
Bohmz Pest Services
2014-08-19 10:07:52
2014-09-29 14:46:31
Burglar hides from police… in a wasps' nest – Ooops!
DANE COUNTY, WISCONSIN
Madison, Sun Prairie, Middleton, Verona, Mount Horeb, Stoughton, Dane, Fitchburg, Waunakee, De Forest, Monona, Oregon, Cross Plains, McFarland, Cottage Grove, Black Earth, Marshall, Windsor, Blue Mounds, Mazomanie, Deerfield, Dunn, Maple Bluff, Burke, Springfield, Albion, Pleasant Springs, Montrose, Roxbury, Springdale, Vienna, Rockdale, Christiana, Primrose, Bristol, Perry, Rutland, Berry, Vermont, Medina, Dunkirk, York, Vilas
ROCK COUNTY, WISCONSIN
Janesville, Beloit, Milton, Evansville, Orfordville, Clinton, Footville, Johnstown, Rock, Turtle, Fulton, Harmony, La Prairie, Plymouth, Bradford, Newark, Magnolia, Avon, Porter, Hanover, Union, Lima Center, Tiffany

GREEN COUNTY, WISCONSIN
Monroe, New Glarus, Albany, Monticello, Juda, Browntown, Clarno, Exeter, Mount Pleasant, Cadiz, York, Brooklyn, Decatur, Adams, Sylvester, Washington, Jefferson, Jordan
WALWORTH CO, WISCONSIN
Elkhorn, Lake Geneva, Walworth, Delavan, East Troy, Williams Bay, Fontana-on-Geneva, Lake Geneva, Darien, Lyons, Sharon, Sugar Creek, Spring Prairie, La Grange, Linn, Bloomfield, Troy, Lafayette, Richmond, Fairfield
JEFFERSON CO, WISCONSIN
Jefferson, Fort Atkinson, Watertown, Lake Mills, Johnson Cree, Waterloo, Sullivan, Ixonia, Palmyra, Aztalan, Concord, Koshkonong, Hebron, Cold Spring, Farmington, Oakland
WAUKESHA CO, WISCONSIN
Waukesha, Brookfield, Oconomowoc, Pewaukee, New Berlin, Menomonee Falls, Delafield, Hartland, Muskego, Sussex, Elm Grove, Dousman, Merton, Big Bend, Vernon, Butler, Genesee, Eagle, Wales, Lisbon, Nashotah, North Prairie, Lannon, Chenequa, Summit, Oconomowoc, Lake Ottawa, Waterville