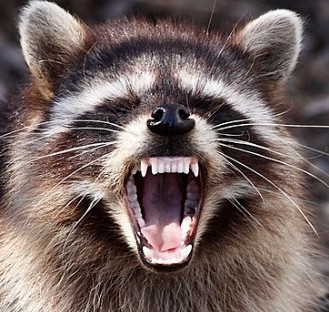 Identifying Raccoons in Wisconsin
The raccoon is a common backyard "bandit" that is easy to spot with its black facemask and bushy, ringed tail. These animals are nocturnal. (That means active at night.) They spend the nighttime hours searching for food in cities and countryside. The raccoon is very good with its front paws, using them like hands. Its scientific name, Procyon lotor, means "a washer." Raccoons often seem to wash their food in the water.
How can you identify a raccoon?
Besides their mask and bushy, ringed tail, raccoons are covered with 1-2 inch-long fur. They weigh an average of 14-24 pounds — but they can grow to 40 pounds! Their fur is a grizzled gray color or sometimes black with silver tips. Raccoon fur can range from a light brown to reddish, to a dark black color. Look for their broad head, pointed nose, and black eyes. Their ears stand straight up and are about 1 ½ inches long. Raccoons make a variety of sounds including purrs, whimpers, snarls, growls, hisses, screams, and whinnies.
raccoon track drawing,
Raccoon tracks are easy to spot because their paw print looks like a pair of small human hands. Each foot has five long toes with short, curved claws. The raccoon's body is round. It has short legs and flat feet that cause it to waddle. The bottoms of raccoon feet are hairless. Look for tracks near the water since they like to wade in woodland streams, prowling for food.
Night Walker
Look for raccoons at night, as they start moving around at sunset and then "disappear" after sunrise. You can find them all across Wisconsin, but they are less common in the northern counties. During the day, they rest on high ground or in hollow trees, rock crevices, burrows, caves, or buildings.
Nighttime means mealtime for raccoons. They are omnivorous, which means that they eat both plants and animals. Raccoons like a mixture of nuts, fruits, berries, seeds, insects, frogs, turtles, eggs, crayfish, carrion (dead meat) and garbage! They like wooded, brushy areas near water and can often be spotted wading in a pond or stream "dipping" their food in the water.
In spring and fall, they love to rest in empty nests of large birds or squirrels. Raccoons can also make their home in buildings. In the warm months, raccoons are known for their nighttime activities in neighborhoods where they tip over trash cans, and raid gardens and bird feeders looking for a bite to eat. You might catch a glimpse of one coming out of, or scurrying into a storm sewer. They can be a problem for homeowners when they move into buildings.
Urban raccoons
Due to its adaptability, the raccoon has been able to use urban areas as a habitat. The first sightings were recorded in a suburb of Cincinnati in the 1920s. Since the 1950s, raccoons have been present in metropolitan areas like Madison, Chicago, and Milwaukee. Home range sizes of urban raccoons are only 3 to 40 hectares (7.5 to 100 acres) for females and 8 to 80 hectares (20 to 200 acres) for males. In small towns and suburbs, many raccoons sleep in a nearby forest after foraging in the settlement area. Fruit and insects in gardens and leftovers in municipal waste are easily available food sources. Furthermore, a large number of additional sleeping areas exist in these areas, such as hollows in old garden trees, cottages, garages, abandoned houses, and attics. The percentage of urban raccoons sleeping in abandoned or occupied houses varies from 15% in Washington, DC (1991) to 43% in Kassel (2003).
Health
Raccoons can carry rabies, a lethal disease caused by the neurotropic rabies virus carried in the saliva and transmitted by bites. Its spread began in Florida and Georgia in the 1950s and was facilitated by the introduction of infected individuals to Virginia and North Dakota in the late 1970s. Of the 6,940 documented rabies cases reported in the United States in 2006, 2,615 (37.7%) were in raccoons. The U.S. Department of Agriculture, as well as local authorities in several U.S. states and Canadian provinces, has developed oral vaccination programs to fight the spread of the disease in endangered populations. Only one human fatality has been reported after transmission of the rabies virus strain commonly known as "raccoon rabies".
Raccoons and human Conflicts
The increasing number of raccoons in urban areas has resulted in diverse reactions in humans, ranging from outrage at their presence to deliberate feeding. Some wildlife experts and most public authorities caution against feeding wild animals because they might become increasingly obtrusive and dependent on humans as a food source. Other experts challenge such arguments and give advice on feeding raccoons and other wildlife in their books. Raccoons without a fear of humans are a concern to those who attribute this trait to rabies, but scientists point out this behavior is much more likely to be a behavioral adjustment to living in habitats with regular contact to humans for many generations. Raccoons usually do not prey on domestic cats and dogs, but individual cases of killings have been reported.
Be Careful
Wild animals do not make good pets! Raccoons can carry diseases like the distemper virus. If you see a wild animal acting strange, stay away and contact a professional at Bohmz Pest Services Immediately by calling (608) 201-0807 or visit our CONTACT PAGE.
Raccoons can be found living in attics, crawlspaces, dumpsters, and basements in homes and businesses throughout Janesville, Madison, Middleton, Sun Prairie, Verona, Fitchburg & Beloit.
https://www.removemypests.com/wp-content/uploads/2014/11/raccoon-removal.jpg
312
329
Bohmz Pest Services
/wp-content/uploads/2018/01/Bohmz-Pest-Control-Removal-Services-Wisconsin-LOGO.png
Bohmz Pest Services
2014-11-22 10:59:26
2014-11-27 09:57:29
Do You Think You Might Have A Raccoon Problem?